Ultimate Fiordland
This four night package showcases the very best of Fiordland and has been designed with complete privacy in mind, for guests who want to enjoy this world renowned area away from the crowds in complete serenity.
Nights: Four night stay
Maximum number of guests: Two guests
Inclusions:
Four nights' accommodation in our Deluxe Suite;
An arrival drink;
Daily cooked breakfast;
Daily

canapés

and evening drink;
Daily set-menu evening meal;
Daily fresh fruit, baking and complimentary minibar;
Complimentary laundry service;
An on-farm activity;
Privately guided hike on the Milford Track;
Cruise and picnic lunch on Milford Sound;
Privately guided trout fishing on the

Waiau

River with a beach BBQ lunch; and
A serene Doubtful Sound experience with picnic lunch.

Cost: $7,495 NZD for two persons
Usually $9,200 NZD, Cabot Lodge is offering this special rate until 15 October 2022. Simply quote 'ULTIMATE SPECIAL' when making a booking enquiry to receive this fantastic deal.
Highlights:
This package offers the 'highlights reel' of Fiordland, with a full day of privately guided hiking on the Milford Track, followed by a day out on the Waiau River capturing prized trout, and concluding with a full day Doubtful Sound experience.
Day One - Guests will be collected from the Lodge by their private guide and transferred to Lake Te Anau for a scenic cruise across to New Zealand's most renowned Great Walk, the Milford Track. Guests will have access to the track before any other day hikers, experiencing the area's true isolation and beauty. Led by our incredibly knowledgeable local guide, guests will learn about the rich history of the area while exploring the lush beech forests, glacier-carved valleys and waterfalls along the nine mile hike. Guests will then enjoy a gourmet picnic lunch aboard their cruise on Milford Sound, surrounded by towering mountains and crystal clear waters.
Day Two - Guests will be collected from the Lodge by their private guide and transferred to the Waiau River, where their boat will await them to venture deep into the Fiordland National Park. Fishing on the Waiau River provides breathtaking scenery, as well as the thrill of the hunt for the prized Fiordland trout. Guests will enjoy lunch on a secluded beach in the National Park, before returning to the water and listening to nothing but the sound of flowing water underneath and the call of birds' overhead. All licenses and equipment are provided with options for both fly and spin reel fishing of all abilities.
Day Three - Guests will depart the Lodge after breakfast for their full day Doubtful Sound experience. The day begins with a cruise across the stunning Lake Manapouri, weaving between the lake's 33 islands. Guests will then head over the Wilmot Pass, through lush Beech forest, before emerging in Doubtful Sound. Once in the Sound, guests will enjoy a three-hour cruise through the fiords. Doubtful Sound is ten times larger than Milford Sound and is much more remote, ensuring guests can enjoy complete serenity in 'the place of silence'. Guests will be able to spot local wildlife, including seals, dolphins and penguins. While out on the water, guests can savour their picnic lunch and get up close and personal with their surroundings, cruising under waterfalls and marveling at the sheer granite cliffs that tower above the inky blue waters.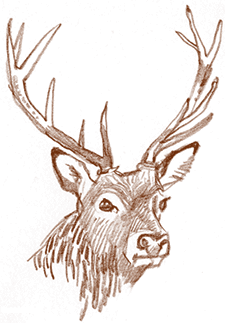 What our previous guests have said
Taking the long twisting driveway from the main road you know immediately this is going to be a special place. Coming round the last bend in the drive you...
Docklander, London, United Kingdom
Spent 4 nights at Cabot Lodge. It's a magical place. Can't recommend it highly enough. Stunning location. Wonderfully gracious hosts.
Ikdrill, U.S.A
We've stayed here twice now. Brad and Breidi are awesome hosts! The location is stunning, the rooms are great, with epic views and the food cooked by...
Andy and Diana, Kapiti Coast, New Zealand
This is truly an amazing place in an amazing part of the country. The scenery is stunning, the accommodation luxury and the kiwi hospitality of Brad and...
Deanna C, Auckland, New Zealand
Everything was exceptional, from the food to the luscious bathrobes, to the insane views, to the crazy cute lambs.
Ashley & Mike, San Francisco
My wife and I spent 2 weeks in NZ on the South Island (in the Mt Cook, Wanaka, Queensland, and Fiordland areas). All of our accommodations were at highly...
Soutine A, Texas, USA
Don't leave home till you have seen the Cabot Lodge. Simply exceptional in all areas no more so than the family customised approach by a go ahead...
Alan L, Bangkok, Thailand
Words fail - So I will just say thank you so much for one of the highlights of our trip - we will definitely be seeing you again
Lance & Naomi, California, U.S.A
This is a place that you need to put on your bucket list. The exclusive 4 bedroom lodge sits on a private hill high above Lake Manapouri and the snow...
Tracy and Phil, Wellington, New Zealand
Your lodge is exceptional In its hospitality, location, beauty and décor.
Kimberley, Sydney, Australia
READ MORE REVIEWS