Springtime down on the farm
The month of September is always busy on the farm, as we tend to our birthing mothers, and watch our intrepid lambs take their first steps.
Thankfully, mother nature has been extremely kind, and we are enjoying serenely still and warm Spring days. While the mountains are still covered in snow, the days are definitely heating up, and we are able to continue our planting programme of native trees across the farm. These trees provide much needed stabilisation on our hill country, as well as shelter for our sheep and deer.
Te Anau is also gearing up for a busy Spring season, with the 45th annual Spring Flower Show just around the corner. It's amazing to see the fields blooming in yellow daffodils and we can't wait to see what the passionate gardeners of the area put on display for us this year.
Come November, Cabot Lodge will be swinging into action, and welcoming guests to our little slice of paradise. We have recently made a number of additions to our library, which is now packed full of New Zealand authors and the history of the Fiordland area. We can't wait to share this incredible collection with visitors to the lodge.
For now the family are relishing the longer days and warmer evenings, heading across Lake Manapouri most Sunday afternoons for picnics on the beach.
It's a hard job working in paradise, but someone has to do it, and we're glad it's us!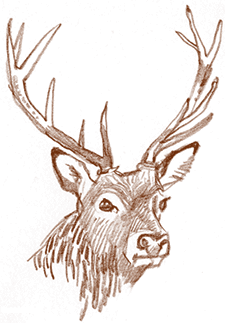 What our previous guests have said
We've stayed here twice now. Brad and Breidi are awesome hosts! The location is stunning, the rooms are great, with epic views and the food cooked by...
Andy and Diana, Kapiti Coast, New Zealand
Spent 4 nights at Cabot Lodge. It's a magical place. Can't recommend it highly enough. Stunning location. Wonderfully gracious hosts.
Ikdrill, U.S.A
Don't leave home till you have seen the Cabot Lodge. Simply exceptional in all areas no more so than the family customised approach by a go ahead...
Alan L, Bangkok, Thailand
Everything was exceptional, from the food to the luscious bathrobes, to the insane views, to the crazy cute lambs.
Ashley & Mike, San Francisco
This is truly an amazing place in an amazing part of the country. The scenery is stunning, the accommodation luxury and the kiwi hospitality of Brad and...
Deanna C, Auckland, New Zealand
Words fail - So I will just say thank you so much for one of the highlights of our trip - we will definitely be seeing you again
Lance & Naomi, California, U.S.A
From the moment you arrive, you are met with the warmest welcome, Breidi and Brad are the most gracious hosts The Suites are absolutely beautiful, they are...
Angela M, Tauranga, New Zealand
This is a place that you need to put on your bucket list. The exclusive 4 bedroom lodge sits on a private hill high above Lake Manapouri and the snow...
Tracy and Phil, Wellington, New Zealand
Your lodge is exceptional In its hospitality, location, beauty and décor.
Kimberley, Sydney, Australia
Taking the long twisting driveway from the main road you know immediately this is going to be a special place. Coming round the last bend in the drive you...
Docklander, London, United Kingdom
READ MORE REVIEWS