What you need to know about travel during Covid 19
After adjusting to our new 'normal' following the temporary closure of New Zealand's borders in March, the team at Cabot Lodge are now preparing for the return of our wonderful guests while our government slowly eases the country out of the restrictive measures implemented to eradicate Covid-19 from New Zealand.
We have spent the past weeks feeling inspired and with a new appreciation for our beautiful backyard - just take a look at our Facebook to see the gorgeous images we have captured during our time in isolation. We have several new developments occurring on the property and we are more excited than ever to welcome Summer in New Zealand and our much loved guests.
The safety and well being of our guests is our top priority, and therefore we have made the decision to keep our doors closed until October 2020. This is to ensure both New Zealand and our guests' home countries have had time to focus on the management of Covid-19, ensure best practice in regards to contact tracing, testing, and educating businesses and travellers alike on hygiene and safety standards, making certain that when we do begin to explore the world again, we can do so confidently.
Thankfully, as a Qualmark Gold Member, Cabot Lodge has been rigorously tested to ensure the best possible health and safety processes have been implemented in our business. We have also added additional sanitation measures (outlined below) and of course, due to our remote location, small size and the unique design of our building - social distancing was never a problem for us! We have always prided ourselves on secluded luxury, with a maximum of ten guests, accommodated in suites located in separate buildings on our 2000 acre property.
Because now is the time to dream and plan your travel, the team at Cabot Lodge have set to work on answering some of the questions you may have regarding travel and what to expect when visiting Cabot Lodge and Fiordland.
What is New Zealand doing to manage the COVID-19 outbreak?
The New Zealand Government implemented a four stage alert level system early and before significant community outbreak had begun. The alert levels control the public health and social measures undertaken in New Zealand. The swift move to Level Four in March, with New Zealanders confined to their home other than to receive essential health services (pharmacy or medical centre) and food shopping (supermarket and convenience stores), as well as closing all international borders, meant that New Zealand has been able to rapidly and effectively control the spread of the virus. As of June 15, 100 percent of New Zealand Covid-19 cases have been reported as recovered.
Follow this link for more information on the COVID-19 Alert System.
You can find out more about what the New Zealand Government is doing to manage Covid-19 here.
When will Cabot Lodge reopen?
We look forward to welcoming guests at Cabot Lodge from October 1, 2020.
Of course we will also need to closely monitor any border restrictions in place in October, to ensure our overseas visitors are able to reach us.
For more information on New Zealand travel restrictions visit NZ Immigration.
When can I start booking my stay at Cabot Lodge?
Whenever you are ready to do so! We are currently taking bookings online and over the phone. If you would like to speak with us about your travel plans, you can find our contact information here.
What happens if I need to cancel my booking because travel has been restricted due to COVID-19?
Our standard cancellation policy allows for cancellation completely free of charge until 31 days prior to a guest's scheduled arrival date. Cancellation within 30 days of a guest's arrival date requires a 25% forfeit of the total booking price. Cancellation within 15 days of a guest's arrival date requires a 100% forfeit of the total booking price.
However, as Covid-19 has had an unprecedented impact on travel, if you need to cancel your reservation due to updated quarantine requirements or border closures in New Zealand, no cancellation policy will be enforced.
If you choose to delay your stay because you aren't feeling 100 percent confident in travelling, your reservation deposit can be forwarded on to a future booking.
What is Cabot Lodge doing about COVID-19?
Cabot Lodge is continuing to follow recommendations from the World Health Organisation, as outlined below:
All staff must frequently clean hands by using alcohol-based hand rub or soap and water;
When coughing and sneezing all staff must cover mouth and nose with flexed elbow or tissue – throw tissue away immediately and wash hands;
Avoid close contact with anyone who has a fever and cough;
Appropriate distancing must be created between tables and chairs in shared spaces to enable social distancing.
We will be taking extra care with cleaning all areas of the lodge. We are following cleaning guidelines from the New Zealand Ministry of Health as explained here.
Is Cabot Lodge and Fiordland a safe place to visit following a pandemic?
Yes! Fiordland has a small population and is not a main thoroughfare, with travel restricted, it has experienced very few cases of COVID-19.
Cabot lodge provides the luxury of seclusion in a remote location with only four suites, all located in separate buildings and situated on 2000 acres of farmland. Exclusive use bookings are also available and ensure complete peace of mind during your travels. We pride ourselves on cleanliness and are as dedicated as ever to providing a comfortable and safe experience for all our guests.
How will COVID-19 impact what I can and can't do in Fiordland?
We are delighted to confirm that all of our partner operators will be back in operation by October 2020. This means we will be able to continue to provide the breathtaking Fiordland experiences we always have, however the way these experiences are delivered may be a little different. For example, precautions will be put in place to ensure physical distancing and schedules may change, with our providers offering more exclusive experiences in smaller groups.
As always, we love to arrange customised experiences just for you, so please let us know what's on your Fiordland bucket list - we're here to make it happen.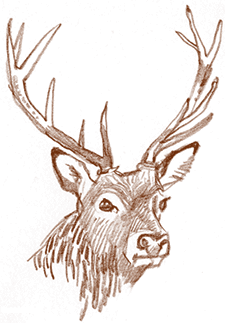 What our previous guests have said
Don't leave home till you have seen the Cabot Lodge. Simply exceptional in all areas no more so than the family customised approach by a go ahead...
Alan L, Bangkok, Thailand
Your lodge is exceptional In its hospitality, location, beauty and décor.
Kimberley, Sydney, Australia
We've stayed here twice now. Brad and Breidi are awesome hosts! The location is stunning, the rooms are great, with epic views and the food cooked by...
Andy and Diana, Kapiti Coast, New Zealand
My wife and I spent 2 weeks in NZ on the South Island (in the Mt Cook, Wanaka, Queensland, and Fiordland areas). All of our accommodations were at highly...
Soutine A, Texas, USA
This is truly an amazing place in an amazing part of the country. The scenery is stunning, the accommodation luxury and the kiwi hospitality of Brad and...
Deanna C, Auckland, New Zealand
Everything was exceptional, from the food to the luscious bathrobes, to the insane views, to the crazy cute lambs.
Ashley & Mike, San Francisco
This is a place that you need to put on your bucket list. The exclusive 4 bedroom lodge sits on a private hill high above Lake Manapouri and the snow...
Tracy and Phil, Wellington, New Zealand
Words fail - So I will just say thank you so much for one of the highlights of our trip - we will definitely be seeing you again
Lance & Naomi, California, U.S.A
Spent 4 nights at Cabot Lodge. It's a magical place. Can't recommend it highly enough. Stunning location. Wonderfully gracious hosts.
Ikdrill, U.S.A
Taking the long twisting driveway from the main road you know immediately this is going to be a special place. Coming round the last bend in the drive you...
Docklander, London, United Kingdom
READ MORE REVIEWS